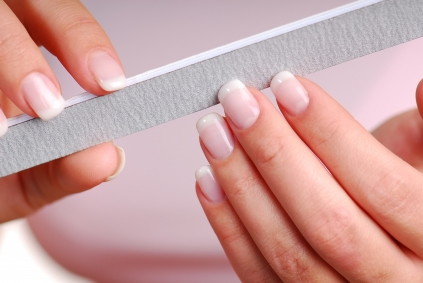 HARPER & QUEEN - NEWBY HANDS VIEWS ON BIO SCULPTURE GEL
Nails naturally yellow and ridge with time. For shiny, fuss-free, perfect nails, try a Bio-Sculpture Nail Gel treatment, from £35 a session. The gel, which is painted over the nail (think thick varnish), comes in a choice of either clear (which has a white-gel tip for a great French Manicure) or coloured. Once set, the gel lasts and lasts, although re-growth will need to be filled in every two weeks or so. But the real bonus is that the gelled nails look immaculate and totally natural, without any worry of chips or breakages - plus, your nails remain healthy underneath. Personally, I'm addicted to it.
DAILY MAIL - FEMAIL SECTION - 5 OF THE BEST MANICURES
Benefits: Chip-proof nail colour for up to three weeks. Verdict: Nothing could chip or break my nails after this manicure. Applied in gel form, you effectively have fake nails painted on top of your own - but they looked completely natural. The gel dries under UV light, which means it's hard as nails before you can even leave the salon. The odd crack began to show after ten days, and you need a special solution to dissolve the gel. If you want long-lasting nails, this is for you. 9/10
THE SUN - SCULPT YOUR WAY TO CELEB NAILS
The biggest celeb craze right now is Bio Sculpture Gel - loved by Charlotte Church, Jessica Alba and Jordan. This is a non-chip nail gel that should see you through your summer holiday and beyond. It is effectively like having fake nails painted on top of your own nails. Sculpting gel is used to build nail extensions, protecting the natural nails and allowing those that are weak and brittle to grow. The finish can either be left natural looking or there is a choice of over 100 different colours, and the gel is easily removed without any damage to your natural nails. Prices start from £35.00 for Gel treatments. For your nearest salon offering the gel treatments call 0845 331 2347 or go to biosculpture.co.uk Beautifully
SHAPE MAGAZINE - PERFECT 10
What's new in the world of beauty treatments? There's only one way to find out - so Ingeborg van Lotringen and her testers prepared to be pampered. It can be a tough job. Perfect 10: nailed Regular manicures chip within days. One answer would be acrylics, but do you really want to spend the time and money, and risk the relative damage to your nails? Me neither. I needed an alternative-and found one. A Bio Sculpture Manicure stays perfect for about two weeks but is applied like any regular manicure with no glues or drills going anywhere near you. The secret is that instead of regular varnish, non-acrylic soluble gels are used - and they dry in seconds to leave hard but flexible protective layers. My nails were painted with a base coat, then buffed slightly for grip. Two layers of Bio Sculpture Gel followed - I opted for clear gel and white tips, but there's a vast choice of colours you can choose from if you prefer - and my rather brilliant Jiheyon finished off with a top coat for extra gloss. The genius of the gel is that it only comes off with a special solvent, so you can paint any varnish over it and wipe it off without affecting your Bio Sculpture manicure underneath. Also, because it dries instantly, its the one manicure (or pedicure) after which you truly can be out the door straight away, unlike 'express manicures' where the half-dry polish comes off the minute you reach for your purse or step into your shoes. The manicure grows out from the root, but after about two weeks you can fill this in with take-home products or have infills done at the salon, giving you another two or three weeks. Lengthening nails is possible too, with your technician building a gel sculpture using thin layers of gel. Fabulous.
Shellac Gel Nails VS Bio Sculpture Gel Nails
"After about 5 days with the Shellac, I noticed the free edge (the tip of my nails) was losing some colour and at around Day 8 I started to notice some lifting"
http://theplasticdiaries.com/body/bio-sculpture-gel-vs-cnd-shellac-which-is-the-better-nail-treatment/
"I experienced no flaws with the Bio Sculpture Gel and the only reason I did have them removed because the regrowth was extremely noticeable and my nails were super long "
http://theplasticdiaries.com/body/bio-sculpture-gel-vs-cnd-shellac-which-is-the-better-nail-treatment/
"Shellac is meant as a permanent polish and that only! It can be applied over acrylics too. But Bio gel is a nail treatment that helps the nails to grow, is thicker and lasts longer"
http://www.beautyboutiquehertford.co.uk/blog-entry/shellac-vs-bio-gel